What is VASERlipo?
Whether you're hoping for simple improvements in your trouble areas or are aiming for a complete full-body overhaul, VASERlipo precision body contouring can be part of your overall transformation strategy. Especially if you have struggled with weight gain despite diet and exercise, and are unable to achieve the kind of dramatic difference you want, the VASERlipo smart lipo treatment is likely to be your top option.
VASERlipo: a Safer, Smarter Choice
VASER liposuction is safer than traditional liposuction in many ways. First, it can be carried out under conscious sedation, which is almost always safer than general anesthetic. When used by an experienced, well-trained surgeon, VASERlipo is not only extremely safe, but causes few side effects. Possible VASERlipo side effects are usually limited to swelling. In some cases, patients experience very mild discomfort. Both swelling and discomfort peak at 48 hours and typically disappear entirely within 3 weeks of the treatment date. It is rare, but possible, to experience collateral nerve damage; when this occurs, it is self limited and subsides within about six weeks.
VASERlipo is not only a safer procedure but a smarter procedure as well. The VASERlipo procedure itself can take as little as one hour or as many as several hours. Afterward, VASERlipo patients ease themselves into a speedy recovery by wearing special compression bandages or compression garments. The skin will smoothly contract to meet the new contours. Immediately after the VASERlipo treatment, most cosmetic surgeons recommend a short period of rest, usually 12 hours. After that, patients undergo two to three weeks of recovery, which just means avoiding strenuous activities, not missing work or other activities.
VASERlipo's ultrasonic liposuction results are noticeable immediately after the procedure and improve continuously as the body heals. Optimal results are usually achieved within three to four months.
Dramatic Results, Less Downtime
What kind of results can you expect from this non-surgical liposuction procedure?
Dramatic results that last. You can target those smaller, problem spots that just don't seem to go away no matter how much exercise you get, or larger areas with more fat; VASERlipo works for both kinds of problems.
Some of the major benefits of VASERlipo include ease of removal of sizable portions of stored fat, improved "sculpted" look compared to traditional liposuction, the ability to achieve notable results with a single procedure, smoother skin, and speedy recovery times. VASERlipo is clinically proven to leave your body tighter and your skin smoother, producing even results in treated areas.
How Does VASERlipo Work?
VASERlipo provides natural-looking, smooth, beautiful results by gently and effectively melting and removing fat from problem areas. The VASERlipo tool itself is a customizable body sculptor, which allows your cosmetic surgeon to achieve very precise results. VASERlipo helps you feel and look your very best. This minimally-invasive, smart liposuction procedure selectively breaks up areas of fat both large and small using ultrasound waves, leaving the surrounding tissues intact.
During the actual VASERlipo procedure, your cosmetic surgeon will create tiny incisions and insert the small VASERlipo probes into the target areas of your body. These probes vibrate at a high ultrasound frequency, causing the fat cells to shake loose while leaving surrounding tissues unharmed. Your surgeon then removes the mixture of fluids and loose fat cells with special cannulas that preserve the tissue matrix. The benefits of this significantly less-invasive procedure include a much faster recovery time and far less discomfort and risk.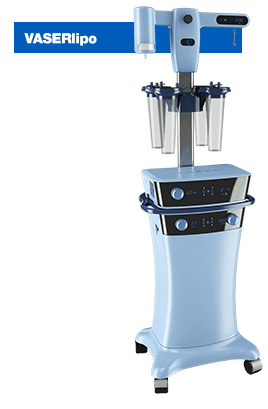 Is VASERlipo Right For Me?
VASERlipo may be a great solution for you if you're looking for a minimally-invasive body sculpting procedure with less downtime than more traditional liposuction procedures. Take charge of your appearance with as little downtime as possible. Contact us today to schedule a free VASERlipo consultation.
View VASERlipo Gallery