Do you suffer from male pattern balding? Have you tried plugs, foams, oral medications and shampoos but with limited results? Would you like to try hair transplants but are not sure if you are a candidate?
If you answered yes to any of these questions, you are in good company. By age thirty-five, 67 percent of American men will experience hair loss. Hair transplant in Sacramento is now a very real option and many men just like you are making the life changing decision to have surgery to restore their hair. A robotic revolution is occurring in the realm of hair restoration and is offering renewed hope for those who are looking to permanently restore lost hair. The ARTAS Robotic Hair Transplant System offers a high-tech solution to a pervasive problem, providing automated hair follicle extraction. This surgery provides a superior and comfortable procedure to conventional methods, with little to no down time.
The ARTAS robotic hair transplant system is a revolutionary treatment that uses robotic precision to select and transplant the most viable follicular units for transplant to the bald portions of your head. Simply put, it is the most advanced hair transplant system on earth. The robotic assistance affords doctors the ability to transplant hairs with incredible accuracy, that produces a natural, full head of hair.
How does ARTAS Hair Transplant Sacramento work?
First, you will consult with your Precision MD surgeon. The doctor will created your own, unique, customized hair transplant design which will then be made into a 3D model using the ARTAS Hair Studio Technology. This will allow you to see the results you can expect while your surgeon covers all the details with you. They will show you how many grafts are needed to achieve your goal, and will demonstrate your expected results and future hairline.
Next, your surgeon puts the physician-assisted ARTAS Robotic System to work. The system identifies your best available donor hairs, and they are harvested selectively with robotic precision. This keeps your donor area looking natural while giving your receiving area the natural-looking hair you want. The ARTAS advanced robotics mean results that are more accurate and faster than any manual techniques can provide, and your ARTAS Hair Studio design goes right to the robot. You can be sure the information is in the robot, but to ensure the best results, the whole process is under physician control. Thicker, permanent, noticeable, visible hair growth begins at around six months and increases over time.
How does ARTAS differ from other hair transplant systems?
Usually done manually, the traditional grafting process consists of the extraction of 1,000-2,000 follicles before relocation can commence. The ARTAS Robotic Hair Transplant System has revolutionized how hair is grafted because robots are precise and surgery time is reduced by approximately 25 percent. The ARTAS Robotic Hair Transplant System automatically locates and extracts the optimal donor hairs within the most desirable area using high def imaging and sophisticated computer algorithms.
The ARTAS Robotic Hair Transplant System is capable of extracting 1000 grafts per hour ready for re-implantation. The robot arm will line up to each hair follicle and will punch each one out by one millimeter precisely over the follicle. Not only is the robot accurate, it does not fatigue. A doctor, no matter how skilled, can not always match this precision, especially when they have to do this thousands of times.
What to Expect from ARTAS Hair Transplant Surgery
During your ARTAS Robotic Hair Transplant surgery you will be comfortable, relaxed, pain-free and able to communicate. Once your hair is shaved, your scalp will be numbed with a local anesthetic. Your skin will then be gently stretched to prepare for the hair grafting procedure. Under the control of your hair transplant surgeon, the ARTAS Robotic Hair Transplant System, including digital imaging technology, is launched. Every 20 milliseconds the ARTAS robot will recalculate hair position to achieve the best results from your donor area. Once the grafts are removed, your hair transplant surgeon will implant them by hand as it is not possible for the ARTAS robot to carry out this procedure on the crown. Under local anesthesia it takes about five to seven hours to perform the entire procedure.
There are nominal risks, as with any surgery, but compared to the traditional hair transplant method where you would have a painful incision line with sutures, you can now lie down on a pillow without discomfort. Within 10 days, any sign of surgery will fade, and the hair will start to fill in gradually.
By 18 months you will enjoy full hair growth. The results are permanent: the hair will grow, need to be trimmed, and it can be styled. Contrary to conventional hair transplant surgery the ARTAS robot does not produce a linear scar so you can wear your hair shorter at your donor site.
Hair Restoration Surgery at Precision MD
Precision MD is the best option for ARTAS hair transplant procedures. We understand the ARTAS Robotic Hair Transplant System well, and have logged numerous hours of experience using it to help our patients. When you're ready to take a step toward this life changing decision, set up your free consultation.
Click here to download the ARTAS Customer Experience eBook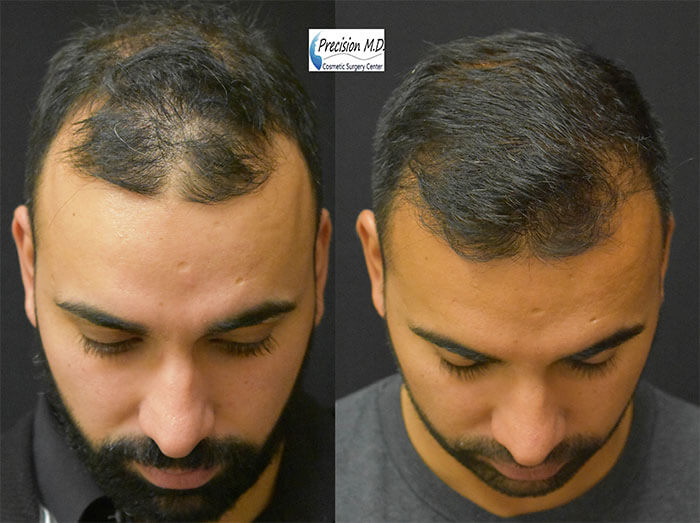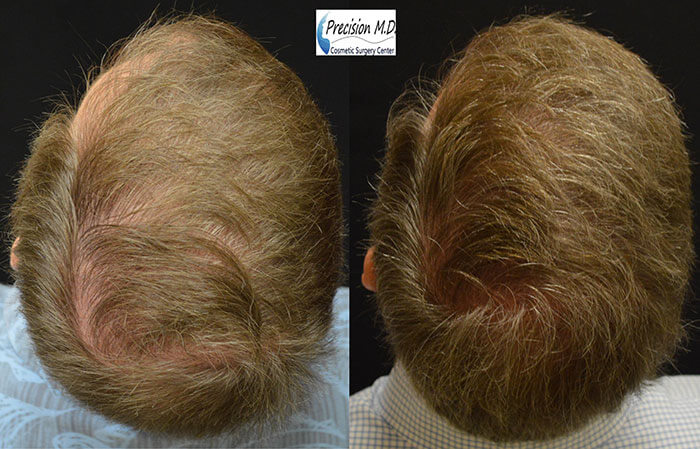 *There is no guarantee of specific results and the results can vary.